You're probably sick of hearing it by now, but we currently are living through a golden age for television. For the first time since it became a viable medium for stuff other than news reports and Muffin The Mule, TV has overtaken cinema as the place to look for interesting, inventive, unique and nuanced drama, horror, and comedy.
Picking up where the likes of The Sopranos and The Wire left off we've gotten Breaking Bad, Mad Men, House Of Cards. Comedies have taken the sitcom model in use since Leave It To Beaver and shaken it up, leading to wild and hilarious new series like Parks And Recreation, Archer and It's Always Sunny In Philadelphia.
You can't just rest on those laurels forever, though. A lot of those series have either finished or are coming up on their final seasons, meaning the boob tube (or, let's be honest, the streaming services you watch TV shows on) are ready for a fresh injection of new blood. And 2015 has got a bevy of transfusions to chose from.
The New Year looks set to be another banger, with everything from debuting HBO dramas to high-concept sitcoms, the return of great talents and the importing of cinematic geniuses, and Marvel continuing to rule the world. Here are the thirteen most hotly anticipated new TV shows of 2015.
13. Empire
Premières: January 7, Fox
Fresh off the success of the Forest Whittaker-starring historical drama The Butler, Lee Daniels takes some time off from the multiplex to the small screen with this family drama he created, will co-write and direct for Fox. A "hip-hop", the show reunites Hustle And Flow stars Terrence Howard and Taraji P Henson, rounding the cast out with Push's Gabourey Sidibe.
Empire tells the story of Howard's Lucious Lyon, the undisputed king of hip-hop and business kingpin. He's sitting on top of the world…until he gets diagnosed ALS and that is going to render him crippled and incapacitated in a matter of three years. In that short time he has to make sure his three sons are ready to inherit his Empire.
It sounds like it has more in common with the political machinations and backstabbing of Game Of Thrones than, saw, Yo! MTV Raps, with Daniels being a fairly dependable director, and Howard great when he's on form (and not arguing with Marvel Studios).
12. The Whispers
Premières: 2015, ABC
Steven Spielberg remains at the very top run of cinematic dominance, his family-friendly nostalgic sc-fi fare having made him one of the most bankable directors working in Hollywood for decades. On TV he's much less of a sure thing, with each success (Band Of Brothers) followed by a handful of failures (seaQuest DSV, Falling Skies, Terra Nova). So approach this one with trepidation.
Well, a little, anyway. The Whispers has a lot going for it besides Spielberg's name attached as executive producer, what with it being based on the classic 1951 Ray Bradbury short story "Zero Hour" from his masterpiece The Illustrated Man. The original story saw kids wrapped up in a game called "Invasion", which turns out to be far more real.
The series throws out any pretence of mystery and is explicitly about an alien invasion of Earth being carried out in secret, by using the most unlikely and unsuspecting inhabitants on the planet – the children. It's a spooky start, and if it can deliver on that premise…
11. The Last Man On Earth
Premières: March 1, Fox
This list has mostly been devoid of comedies thus far, and that's because, well, most of the decent comedies this year look to be the returning series (the final seasons of Parks And Recreation and the resurrected Community, specifically). Most new comedies are hard to judge until you've actually seen them, and a lot of what has been previewed so far has looked like a load of hot garbage.
Be thankful, then, for The Last Man On Earth, the new Fox comedy has a concept as high as its prestige. Not only will it star (and was created and written) the brilliant Will Forte, fresh off of awards success for his turn in Nebrakas, but it's set to be directed by Phil Lord and Christopher Miller of LEGO Movie and 22 Jump Street fame.
That's a staggering amount of talent, with January Jones and Kristen Schaal rounding out the cast and putting paid to the idea that Forte's Phil Miller (hmmm) in fact isn't the only human left in the year 2022, once the rest of humanity has been wiped out…somehow.
10. Wayward Pines
Premières: May 14, Fox
There's even more tinsel town talent on show in this upcoming midseason-replacement "event series" by Fox, which stars Matt Dillon as a Secret Service Agent on the search for two missing colleagues, either helped or hindered by a small town's inhabitants, played variously by Melissa Leo, Terrence Howard, Toby Jones, Shannyn Sossamon, and Juliette Lewis.
Must be pretty good if all of them signed on, right? Unfortunately Wayward Pines has a similar black spot to The Whispers, with a big Hollywood name attached that's more off-putting than likely to win curious viewers. Thankfully M Night Shyamalan (the "M" stands for "Man I love twists") is only on board as an executive producer.
So hopefully Wayward Pines won't be spoilt by the death touch of Shyamalan, since the premise is intriguing and the cast is really, properly brilliant. It sounds like a spin on Twin Peaks, with a slightly different sci-fi/supernatural bent. Which sounds pretty good, doesn't it?
9. Togetherness
Premières: January 11, HBO
The Duplass Brothers are one of the few directing teams to break out of the mumblecore ghetto and actually into the Hollywood establishment, embellishing the usual dreary family drama fare with some life, light and emotional intelligence. Also: jokes. After leaving behind their indie roots (the genre is so-called because everyone improvises and kinda, well, mumbles into cheap microphones), they've gone from strength to strength.
The past couple of years has seen the wonderful Jeff Who Lives At Home, starring Ed Helms and Jason Segel, and Mark has starred in popular TV sitcoms The Mindy Project and The League. Now the brothers re-team for a comedy series on HBO, again starring Mark, with both writing and directing.
Togetherness sees Mark Duplass and Melanie Lynskey as a relatively together married couple who begin to have their relationship tested when Lynskey's sister Amanda Peet and her rowdy husband move in after getting evicted. There will be hugging, crying, learning, and sharp laughs.
8. 12 Monkeys
Premières: January 16, Syfy
Terry Gilliam's superlative 1995 dystopian sci-fi thriller film had a pretty definitive ending. The movie was loosely based off of experimental French film La Jetée and saw Bruce Willis as a time traveller sent back from a ruined future to the present day, where he was tasked with discovering the origin of a mysterious plague. Except he gets planted in a mental institution because, well, he keeps claiming he's a time traveller.
12 Monkeys is one of those brilliantly constructed twisty-turny thrillers which all comes together with its ending. Without spoiling anything, it's very much not an ending that's open to interpretation. There wasn't going to be any sequels. And yet Syfy have figured out a way of bringing the story back in an ongoing TV series set to debut this year with a somewhat tweaked premise.
Aaron Stanford stars as the time traveller sent back and eventually institutionalised, but the story's going to be stretched out a fair bit. And this time he's teamed not with Brad Pitt's bonkers animal rights activist, but brilliant virologist Cassandra Railly (Amanda Schull) and a math genius with mental issues, Jennifer Goines (Emily Hampshire).
7. Unbreakable Kimmy Schmidt
Premières: March, Netflix
It turns out that the best place to find new comedy series isn't on TV at all. Well, not on traditional, broadcast television, anyway. This past year the streaming video service Netflix impressed with its original productions, with a handful of fantastic stand-up specials (a highlight being that of Brooklyn Nine-Nine star Chelsea Peretti) and the surprisingly deep and hilarious animation BoJack Horseman.
They're upping their comedy game – having secured the drama field between Orange Is The New Black and House Of Cards – in the New Year with Unbreakable Kimmy Schmidt, created and written by 30 Rock's created by Tina Fey and Robert Carlock. And if the show has even an ounce of that shows manic energy, it'll be something very special.
It's certainly got a good set up, with The Office's Ellie Kemper starring as the titular Kimmy, who escapes from a doomsday cult and starts life over in New York. Plus 30 Rock's true star, Jane Krakowski, appears as a wealthy Manhattanite who hires Kimmy as a nanny. What's not to love?
6. 11/22/63
Premieres: 2015, Hulu
Stephen King has sort of a varying track record when it comes to adaptations. His novels and short stories have provided source material to some of the most haunting (The Shining), dramatic (Stand By Me, The Shawshank Redemption) and disturbing (Misery) films ever made. Then there's Maximum Overdrive, a thriller about evil trucks with scary faces the man himself directed. That was less good.
Aiming for the more prestige side of things is 11/22/63, the upcoming adaptation of his recent novel about a man who discovers a portal back to September 9, 1958, at precisely 11:58 am – in the back of a diner, obviously – and is tasked with using it to stop the assassination of John F Kennedy. Like you do. He just wanted some pancakes.
Obviously there's some additional drama in there, with divorced teacher Jake Epping assuming he can also stop the Vietnam War, Martin Luther King's death and saving a disabled student from being attacked by his alcoholic father as a child. The series is being produced by Warner Bros Television and J. J. Abrams' Bad Robot Productions, with King writing the scripts, with the show due to drop on streaming service Hulu this year.
5. Westworld
Premières: 2015, HBO
The original Westworld is a stone cold sci-fi classic, written and directed by novelist Michael Crichton years before people though his Jurassic Park might work better as a movie, with Yul Brynner as an android in a futuristic Western-themed amusement park, and Richard Benjamin and James Brolin as guests of the park who get into a spot of bother when the AI goes a little haywire.
Beyond Westworld, the eighties CBS TV spin off that was cancelled after five episodes, was far less iconic. Still, second time's the charm, as Westworld is set to be adapted for the small screen again for HBO this year. They're in safer hands this time, however, with JJ Abrams producing and Jonathan "Christopher's Brother" Nolan as the creative force in charge.
The new Westworld follows basically the same premise as before, except it's about a more advanced version of the park where the cowboy robots start becoming self aware, and are either sad…or angry. James Marsden and Evan Rachel Wood are the sad one, Ed Harris the very angry one, and Jeffrey Wright and Anthony Hopkins appear as the shadowy figures pulling the strings.
4. Agent Carter
Premières: January 6, ABC
Marvel continue to dominate your screens with their second in-house series produced for television. Agents Of SHIELD got off to a rocky start, directly spinning out of the Avengers films but never quite managing to match their spectacle on the smaller screen and budget. This year's second season saw a marked improvement, however, and sets things up nicely for their next venture.
Agent Carter will skip back a few decades to fill in the early years of SHIELD, primarily the post-war escapades of Hayley Atwell's Peggy Carter and Dominic Cooper's Howard Stark (yes, Tony's dad) from the Captain America films. An Agent Carter short film accompanied the DVD release of The Winter Solider, and this picks up where that left off.
Debuting off the back of an episode of Agents Of SHIELD in the New Year, Agent Carter will reportedly see the eponymous heroine balancing administrative work and going on secret missions for Howard Stark whilst navigating life as a single woman in 1940s America. So like, period superhero spy Sex And The City?
3. Battle Creek
Premières: March 1, CBS
On first blush this new CBS crime drama might not look like it's up to much, doomed to be absorbed into the shapeless, formless malaise of all CBS crime dramas. Look a little closer, though, and you'll realise that Battle Creek should absolutely be one of your most anticipated TV shows of the coming year. Because it's the new series from Breaking Bad's Vince Gilligan.
There's no sign that the same level of emotional intensity, pathos and pizza-throwing will be on show in his latest show, and the premise is a lot less high-concept – the show will follow the mismatched partnership of a police detective and an FBI agent – but the presence of not only Gilligan but House's David Shore is reassuring.
Nay, exciting! With Dean Winters from 30 Rock as the cop and Josh Duhamel as the fed, along with Janet McTeer and Kal Penn rounding out the cast, this is one to keep an eye out for. CBS are clearly confident: they've given the series a full 13 episode order, something which they basically never do.
2. Daredevil
Westworld isn't the only adaptation that's getting a second chance on the small screen, Agent Carter isn't the only new venture Marvel is making in television, and Unbreakable Kimmy Schmidt isn't the only new Netflix series to be pumped for next year. All of those come together with Daredevil, the new live-action version of the Man Without Fear – blind attorney Matt Murdock by day, vigilante by night!
Previously Daredevil has appeared on the small screen in TV movie The Trial Of The Incredible Hulk, which was supposed to be a backdoor pilot to a series that never happened, and then on the big screen in the slightly naff Ben Affleck-starring movie from about ten years ago.
The Netflix Daredevil is set to be way better than both, with Marvel Studios hitting a mostly perfect game so far, and the casting so far being totally perfect: Stardust's Charlie Cox as Matt Murdock, True Blood's Deborah Ann Woll as love interest Karen Page and (best yet) veteran character actor Vincent D'Onofrio as the hulking Kingpin of crime.
1. Better Call Saul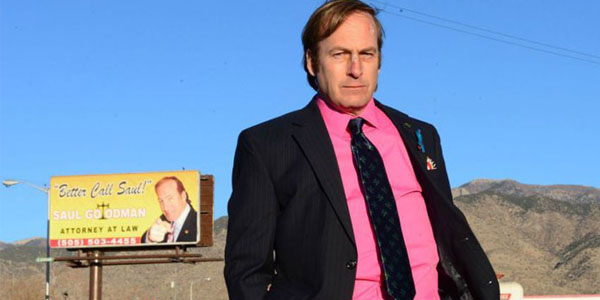 Premières: February 8, AMC
Battle Creek might be anticipated by those expecting great things from Vince Gilligan's next venture, but what most people really want from him is very simple: more Breaking Bad. They'll sort of get that with the upcoming Better Call Saul, AMC's attempt at plugging that Walter White-shaped gap with a prequel series focussing on Bob Odenkirk's unscrupulous attorney.
Odenkirk himself has said that the show will be 85% drama, 15% comedy, contradicting earlier reports that the show would be a half-hour comedy. Which would certainly have been…interesting, but a half-hour multi-camera sitcom as the spin off to serious drama Breaking Bad? That would've been weird. Thankfully what little has been released about Better Call Saul so far has been jolly exciting.
The show will include the lawyer's first meeting with Mike Ehrmantraut, with Joanthan Banks returning after his character met a pretty definitive end in Breaking Bad. Apparently some other familiar faces may drop by, too, with the show not being a straight-up prequel so much as a series which will mainly be set in pre-Walter White 2002, but jump across several decades.
Does that flexible timeline mean Jesse "B*tch!" Pinkman and Walter White might make an appearance? The chance they might makes Better Call Saul the most anticipated show of 2015 for sure.